Kids Horse Camp is our favorite event of the Summer season and this was one of the best ever!  11 kids attended and all had a fantastic time.  It was an awesome day of fun events that all the children enjoyed immensely.
Kids Horse Camp: Horse Training and Riding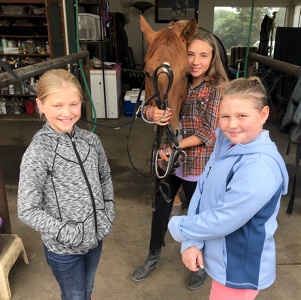 The kids, age 6-12, were both students of Barbi's and friends of friends new to riding that participated. The event was set up in small groups set up to adjust to the abilities of the rider.  Some rode independently, while others had an assistant leading them.  An obstacle course was offered and live demonstrations by a Veterinarian and Farrier.  Barbi even wowed the kids with a demo-ride on her Grand Prix Horse.
There was so much to do at the Kids Horse Camp this year.  In addition to the horse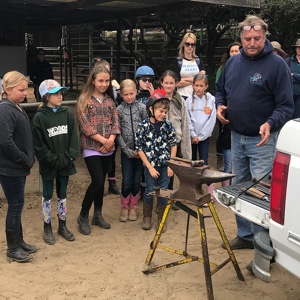 training and riding events, there was a scavenger hunt and crafts projects to enjoy!  The kids also got to drive a mini and help to feed the 36 horses that are boarded at the ranch.  It was a very fun and positive horse loving experience for all, but these testimonials from parents tell it best!
Kids Horse Camp Testimonials
"I can't say enough good things about Barbi's Horse Camp.  From beginning to end, Barbi and her staff did a first class job teaching the kids all about horses and their care.  During the riding instruction, Barbi paid close attention to each student and made the whole experience so positive and productive.  My daughter can't wait to come back, and now I want to take lessons too!! Thank you Barbi and staff for sharing your knowledge and passion with us!"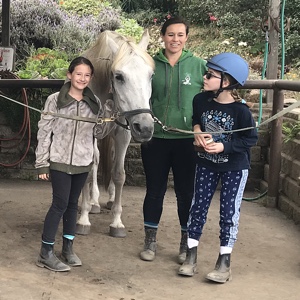 "Thank you Barbi and family for the most amazing horse camp! My son had very little experience around horses and came away with a lot more awareness and knowledge about taking care of and riding horses.  Every activity planned (watching the farrier, feeding all of the horses, the scavenger hunt, tacking up, and of course the lessons with Barbi), gave the kids an opportunity to experience all aspects of horse care. We loved it and will be back next year!"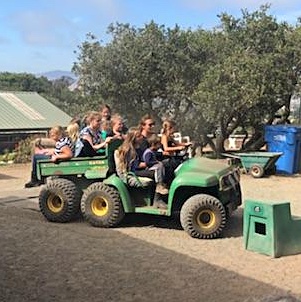 From a 9 year old…
I really enjoyed everything about horse camp! My favorite things were riding, the obstacle course, feeding, watching horseshoeing, and getting to spend time with the horses! I learned a lot and really enjoyed watching you ride Vin. Can't wait for next year! Thank you Barbie!-Olivia🐴