Horse riding instruction on the Central Coast by Barbi Breen-Gurley.  It has always been Barbi's passion to provide horse riding instruction to motivated students of all ages and riding levels. She takes pride in making her students better riders.
"As long as a student wants to learn, I will happily work with them to improve their skills and effectiveness."
Horse Riding Instruction For All Levels And Ages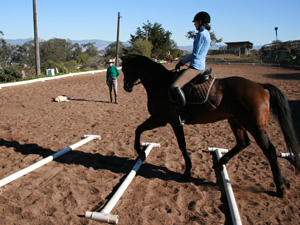 Barbi's skills as a champion Dressage Horse Rider and horse ranch owner have come from years of experience. Some horse riding students have trained with Barbi for over 40 years, starting as children and still taking lessons today to continue improving their riding skills. In fact, Barbi has students in their 50s and 60s. From beginner to advanced… If you have the desire to learn how to ride a horse well, give Barbi a call to discuss horse riding lessons custom designed to your individual goals and skill level.