Its been a great summer at Sea Horse Ranch for horse lovers and equine enthusiasts!
Schooling Shows At Sea Horse Ranch
The "Sea Horse Ranch" Schooling Shows offer an informal, non-competitive atmosphere for riders new to the competitive environment and those starting a new level with their horse.
They are very beneficial to building confidence and skill and are very affordable. We have two or three a year, one in the spring and one in the fall, sometimes one during the summer…
Barbi's Book…  Enlightened Riding 2nd Edition

Barbi's second edition of her book "Enlightened Riding" recently came out; She and her co-author Janet Emmons had a book signing at Sea Horse Ranch in July 2015, which was well attended by riders and non-riders alike. There were demonstrations performed by Barbi and Vindicator, her Grand Prix horse, and Sea Horse Synchrony, her quadrille team. Everyone enjoyed visiting, tasting local wines and delicious hor'd oerves.
 San Luis Obispo Renaissance Faire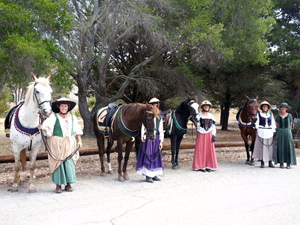 The San Luis Obispo Renaissance Faire was held July 18th and 19th at Laguna Lake Park. "Sea Horse Synchrony" performed their quadrille in full 'Renaissance costumes' and to live music. They did an excellent job Saturday to a large audience. On Sunday they performed even during the huge storm that went through the central coast. It was a performance to remember!
 Riding Workshop for Kids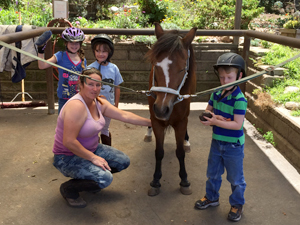 On August 12th thru 14th Barbi is offering a kids riding workshop to children ages 6-11. There will be a lot of fun, and great learning experiences: riding, fun activities, and activities for learning about horse management. If you have questions, please call Barbi at 805-459-0150.