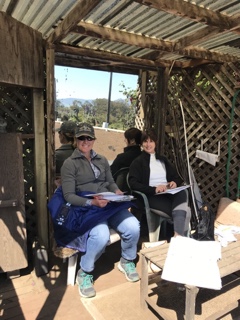 We recently held an instructional schooling show at the ranch and it was a terrific learning experience for everyone who participated. A schooling show (in house) lets especially beginning riders watch others at their level of ability and above. The riders perform the tests and become more familiar with what is expected. There is no stress of traveling to a new, unfamiliar environment so they can focus on their riding and the harmony with their horse
Riders are able to watch and learn as others deal with the inevitable challenges that normally come up. They can improve their eye even though they have not ridden some movements themselves. More experienced riders have the opportunity to practice new tests that they want to show in the future at a recognized competition. It's great fun and learning for all! In the photo you can see our Judge, Cindy Ramirez as she graded the riders on their performances.
What A Fun Way To Learn To Ride!
Everyone who participated was able to learn and grow as a rider.